The Maybach Motors
A Long Standing Relationship with Zeppelins

by: John Provan, PhD.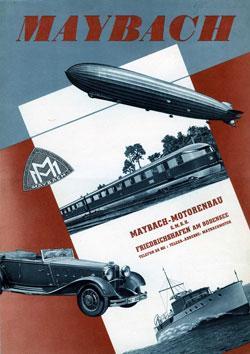 In the very beginning of Zeppelin construction, the engineers had to rely on motors which were designed for the automobile, not for aviation. These motors tended to weight too much in comparison to their horsepower, the weight-horsepower ratio was simply not conducive for lighter-than-air. Weight was the most critical factor for the rigid airship, since a Zeppelin that was too heavy, would simply not fly or at least did not steer very well. On the other hand, the airship required engines powerful enough, that could withstand a strong headwind, while operating for long periods and at high altitudes with the resulting thin air. The problem of power plants can be seen as a factor in many of the early Zeppelin accidents.
After the crash of LZ 4 in Echterdingen, on September 4, 1908, Karl Maybach, developed an engine for airship use and he presented these plans to Count Zeppelin. The motors from Daimler had 85 hp with a weight ratio of 5 Kilogram per hp, while Karl Maybach's motor had 150 hp, with a weight ratio of only 3 Kilogram per hp. In other words, double the horsepower with only 25 Kilograms more weight. This new engine also used considerably less fuel, only 225 gram per horsepower hour. The Count realized the potential and together they formed the "Luftfahrtzeug Motorenbau G.m.b.H." in Bissingen on March 23, 1909.
Within six months of development the first Maybach engine was operational and exceeded test expectations. LZ 6 was the first airship in which this new power plant, the AZ motor, was installed in 1909. Still sceptical if its performance would hold up under flight conditions, the new motor was installed in the forward gondol, while two Daimler engines were used in the rear. At the same time, a new gear drive mechanism was used while the proven chain drive was used in the rear. Although vibrations and problems arose, Count Zeppelin had no time to consider repairs, since the Austrian Kaiser Franz Josef had been promised a flight, onboard the new airship. During the flight of 12 June 1910, the engine failed, not due to design failure, rather the transmission shaft broke. In 1911, the new LZ-10 "Schwaben" was equipped with three Maybach motors.
On February 8, 1912, the company moved to Friedrichshafen and changed its name to "Motorenbau G.m.b.H.". It was here, that the most famous airship engine was designed and produced, the Mb IVa; a design which could be found on numerous airships and even airplanes of the period. Maybach Motors were also used in the wooden rigid airships of Dr. Schutte-Lanz, or the semi-rigid airships of Maj. Grob and non-rigid (blimps) built by Parseval. In fact, before the First World War began, these engines found their way into Japanese, British and Italian airships. Even after the war, these engines found their was into a variety of unique pieces of equipment, such as in speed boats built by the Lurssen Co., used to remove mines off the shores of Belgium and Holland. Later Maybach motors would be used in numerous speed boat designs, such as "Oheka II", "Charming Polly", "Gem","Atlantis" and "Dawn II".
The success of this engine, especially in airships and aviation, was due in large part to extensive testing which occurred at a test facility atop the Wendelstein Mountain. This site was chosen not only because of its height, of 1,800 meter, but it also offered a perfect rail connection, which allowed for easy movement of the heavy engines.
The Mb IVa motor had 240 hp with a weight ratio of 1.5 Kilogram per hp, and over 1,000 such motors were built. By 1917, the Maybach Co. had between 2,500 and 3,000 employees.
Maybach produced the following airship motors:
| | | | | | | |
| --- | --- | --- | --- | --- | --- | --- |
| Type | Cylinders | H.P. | RPM | Weight (kgs) | Year | Usage |
| AZ | 6 | 146 / 180 | 1,200 | ---- | 1909 | Zeppelins |
| CX | 6 | 210 | 1,300 | 410 | 1913 | Zeppelins |
| DW | 6 | 160 | 1,350 | 240 | ---- | Airplanes |
| Mb III | 6 | 160 | 1,400 | ---- | ---- | Airplanes |
| Mb IV | 6 | 240 | 1,400 | 365 | 1915 | Zeppelins / Airplanes |
| Mb IVa | 6 | 265 / 250 | 1,450 / 1,800 | 390 | 1917 | Zeppelins / Airplanes |
| Mb VI | 6 | 500 | ---- | ---- | 1918 | Experimental |
| Mb VII | 12 | 600 | 1,500 | 850 | 1918 | Experimental |
In 1918, the Company changed its name again to "Maybach-Motorenbau G.m.b.H.". After World War One, the Maybach Company was prohibited from involvement in aircraft production and turned its interests to the manufacturing of automobiles, with the first being built in 1919, the model W1, of which only one was built. Between 1921 and 1928, the production of the W3 model proved more successful, with over 400 cars, in various designs being completed.
With the completion of LZ 127 "Graf Zeppelin", in 1928, the Maybach Co. once again manufactured an airship engine, producing the VL2- a 12 cylinder engine, with 550 Hp each. The "Graf Zeppelin" had five such motors plus a few spares. Thereafter, the most famous automobile model ever built, the Maybach-Zeppelin, (also known as Model 12) a luxurious car built around the huge 12-zylinder Zeppelin engine, was introduced in 1930. Only a hand-full of these models were sold, with a selling price in 1931 of RM 34,000.--, only a very few rich individuals could afford such luxury. The stock market crash and great depression would prohibit a large scale production of such an expensive luxuries vehicle.
The total production figures for all Maybach automobiles reached only 2,300, by 1941. Although the Karl Maybach considered a large scale production of a less expensive automobile, he lacked the necessary funding. A number of pervious designed models were rebuilt and modernized, but no new automobiles were built. In 1954, the final design failed to achieve a tasteful outline or shape and never went into production.
The limited production of the most expensive car in history, returned in 2002, when the Daimler-Chrysler Co. re-introduced the model, "Maybach". Once again the Sedan model (62 S) is built around a V12 engine that produces 604 Hp.
Wilhelm Maybach (Feb. 9 1846 - Dec. 29, 1929) and his son Karl Wilhelm Maybach (July 6, 1879 - Feb. 6, 1960) created a company, whose name stands for quality and endurance. The motors they designed played an important role in the development of LTA. With the financial backing of Count Ferdinand von Zeppelin, the MTU company they formed in March, 1909, has managed to survive the test of time and can look forward to continued success.
"Maybach in the Beginning"