Educational - The RACE has evolved and its impact will be on the entire next generation of artists, architects, attorneys, ... and world leaders. As an agent of global and local change, the World Sky Race will be the focus of educational programming in classrooms around the world. Each generation needs its own inspiration to follow. It is teachers with commitment and purpose that create the path for the next generation to explore. The RACE will provide those teachers an uplifting way for defining the horizon and looking beyond.

The United Nations estimates there are more than 59,000,000 teachers in the world. Connecting them with our educational partners, the World Sky Race will be used in classrooms around the world with lesson plans for geography, history, culture, science and environment. For an entire school year, the daily lesson plans will ask, "Where are the airships today? What are they over? Who lives there? What has happened there? What is happening now? How are they...?" In a single bold stroke, the World Sky Race will be used to connect the next generation, globally.





Environment and Sustainable Development - he RACE will promote lighter-than-air (LTA) aviation technology. This is the greenest form of aviation. It was proven in the 1920-1930s that LTA uses less fuel and produces less pollution than commercial airplanes and jets. With modernized LTA technology, fuel savings and pollution reduction can reach 90%. (Yes, 90%.) As a sustainable future path, LTA commerce will also reduce the infrastructure needs for roads, harbors, railroads and runways. For both developed and developing countries around the world, infrastructure has three costs: 1) Capital investment in construction. 2) Ongoing maintenance and repair costs. 3) Destruction of the environment to construct the infrastructure, e.g. cutting down rainforests, diverting rivers, dredging harbors, destroying tundra ... As a sustainable alternative future, LTA commerce will reduce the need for incurring all of three of these costs. As a competition and incubator for invention, the RACE will encourage this important alternative and sustainable technology evolution. For commercial shipping, this means opening new markets and business development for nimble companies that adapt to faster, cheaper and reliable technology. Consider Alaska and Canada, combined they have $1.2 Trillion in shut-in minerals. LTA commercial shipping will open their markets to global trade. Siberia, Brazil, Argentina, Indonesia, South Africa, Australia and others each have similar issues and opportunities.


Epic - In their quest, the competing airships will travel from the London Greenwich Prime Meridian southward to Africa and the Middle East, cross the Indian Ocean to Equatorial Asia and through the Orient, island hop across the Pacific up to Siberia and the Bering Straits, journey south down the western shores of North America to Central America, turning up to the North Atlantic and crossing over to the French Prime Meridian with a final landing in the Palace of Versailles Gardens for an exciting finish in an historic race, completing a full global circumnavigation.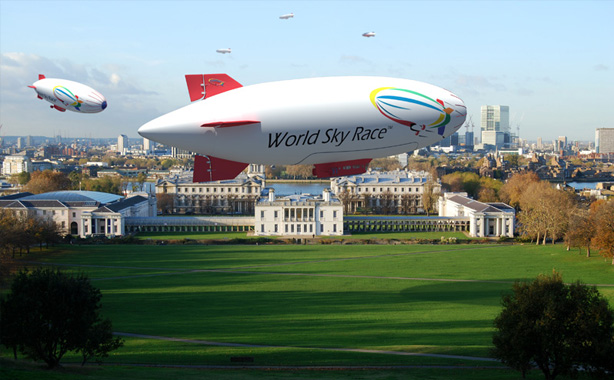 Exploration - Fittingly, the World Sky Race will start at the Greenwich Royal Park and the National Maritime Museum UNESCO World Heritage Site on the Greenwich Prime Meridian. For historic ties, the RACE starting point is also known for the Longitude Prize of 1714 that stimulated the development of the first practical navigational method to determine a ship's longitude. It's invention made possible Britannia's ascendency to global maritime supremacy. (I suggest pausing and giving fullness to that last statement and then the homage of the RACE is understood). The World Sky Champions Prize will transform global sustainable lighter-than than-air commerce by inspiring inventors to invent, investors to invest and adventurers to compete. Innovative captains of industry will watch, learn and adapt.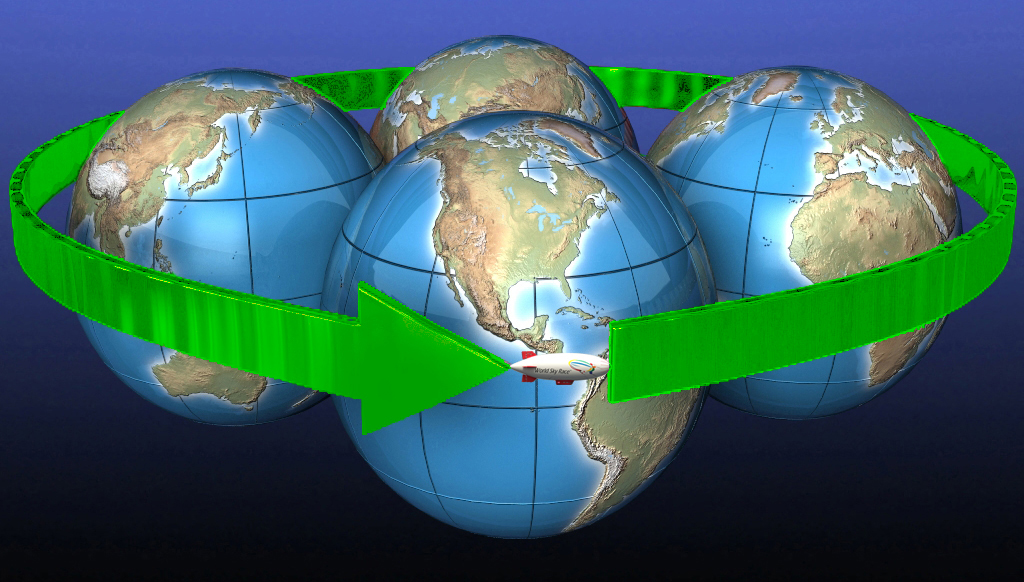 Economic Development - Globally - This is a BIG PROJECT. It will created advanced aviation jobs for early adapters. For nations that are natural gas producers, it will add value to exports by extracting, not wasting, the Helium contained in natural gas. It will eliminate supply isolation for communities around the world, reducing the shipping costs and improving year round accessibility. It will allow governments around the world to re-evaluate infrastructure requirements by enabling faster, cost effective, environmentally sustainable commerce.